Composite insulators
HPK offers a wild variety of composite T&D line Insulators and composite hollow insulators. Silicone polymers are a class of versatile inorganic materials suitable for the needs of a broad variety of industries and whose unique properties perfectly fit requirements in the T&D industry. Beneficial properties offered include hydrophobicity and hydrophobicity transfer, less or no need for maintenance, light weight of finished parts, resistance to weathering, ozone and radiation, flame retardant properties, high arcing, tracking and thermal resistance and excellent dielectric properties. Among the components that benefit from these properties are rod and hollow core composite insulators and arresters for medium, high and ultra high voltages.
HPK silicone T&D line and hollow insulators are manufactured and tested to polymer insulator standards ANSI C29.12, ANSI C29.13, ANSI C29.18, IEC 61109, IEC 61462 and IEC 61952.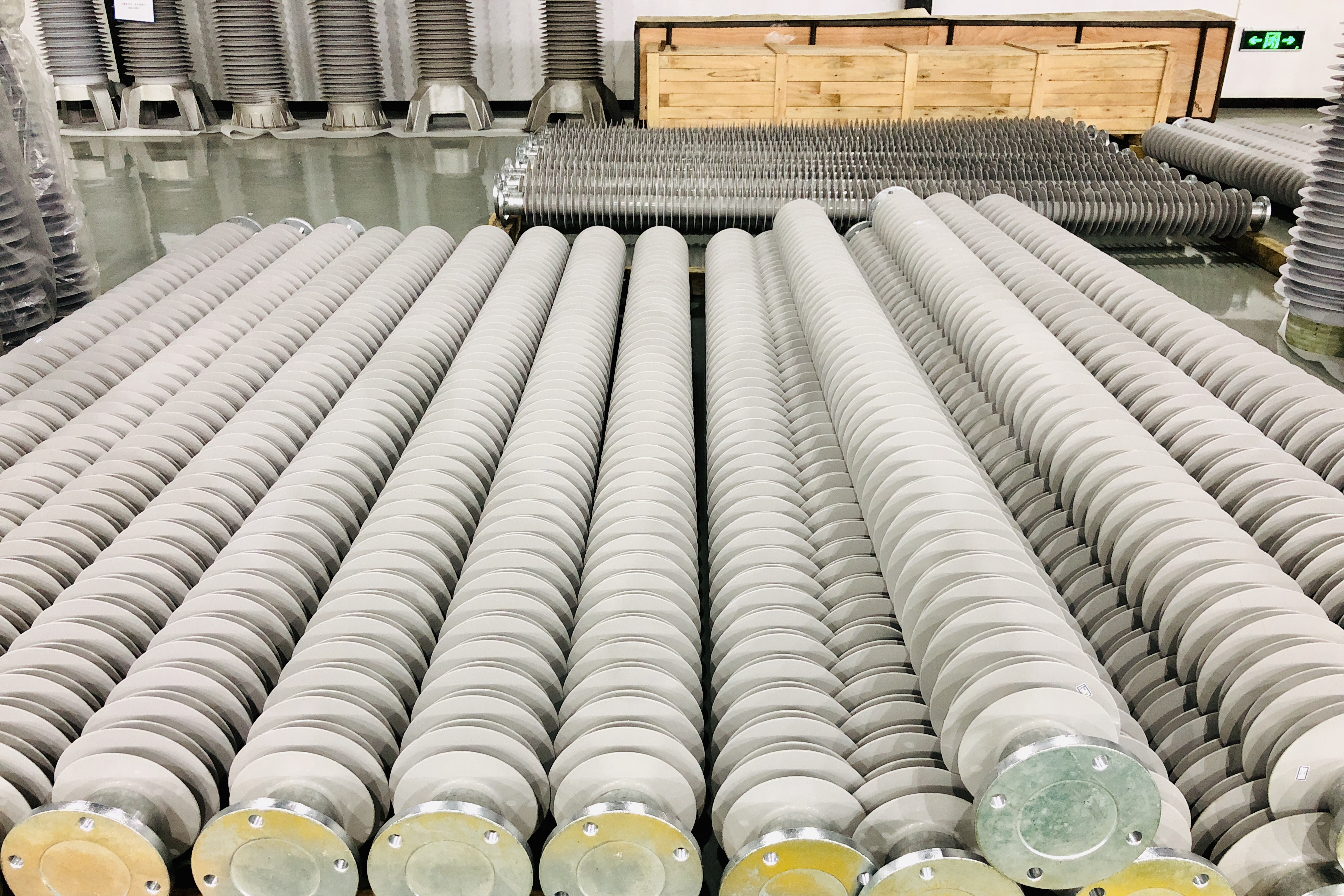 HYBRID INSULATORS
HPK offers hybrid solid core and hollow station post insulators as a solution for support functions in AC High voltage apparatus and support application in HVAC substation.

HPK owns both porcelain insulator production lines and composite insulator production line in Liling city, which is an advantage for HPK to provide hybrid insulators, the whole production processes and the quality of hybrid insulators can be controlled very well.

Hybrid insulator combines the advantages of porcelain insulators and silicone rubber housing without most of the respective disadvantages. 1.Keep the Superior advantages of porcelain solid core in terms of bending strength, deflection under bending load, torsion load and compression load. 2.Hybrid insulator is not susceptible to moisture ingress problems and acid attacks because of porcelain core material inside。 3.The improved long-term pollution flashover performance, thinner sheds and larger creepage distance because of the silicone rubber housing, which protects the core from short circuit arc damage as well. 4.lower weight.

The tests are in accordance with the electrical and mechanical type tests were conducted according to the existing composite and porcelain post standards. IEC 60168, IEC 60273, ANSI C29.1, ANSI C29.9, IEC 62231

Hybrid insulators can be applied for post insulators, hollow cores and overhand line insulators.
| ITEMS | Hybrid | Porcelain | Composite | RTV Coated Porcelain |
| --- | --- | --- | --- | --- |
| Torsion Strength | ++ | ++ | - | ++ |
| Compression Strength | ++ | ++ | - | ++ |
| Deflection under bending load performance | ++ | ++ | - | ++ |
| Product Lifetime | + | + | - | - |
| Pollution Performance | ++ | - | ++ | ++ |
| Weight | + | - | ++ | - |
| Maintenance | + | - | + | - |
| Vandalism | + | - | + | - |
| Reliability | + | + | - | - |